This is the rules page for this site it's called "eternal misery rules" but while this is true I actually meant it to mean rules like laws so you better listen!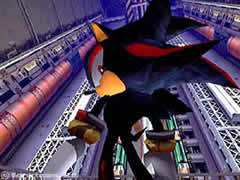 "A mysterious black Hedgehog appears above in the shadows as Dr. Eggman looks on. What mystery shrouds this black hedgehog that appears to have the same silhouette of our famed Sonic? The curtain is drawn as the drama of Sonic Adventure 2 begins with the appearance of this mysterious hedgehog." - HE IS MY HERO!
RULES (LAWs)
You MUST be a fan of Shadoow and support him! No shadow hating is allowed
You must provide acurate information on the JOIN page, please don't lie! But you can use a made up name like I'm Suitcase it has the same first lketter as Shadduu~ I think that's Altiteration??
I will not allow hentai, pornography, raceists or people who hate sonic games in the club.
You MUST be a Sonic X fan. Why else would you join?
4. If you join the club I would like it if you used the items on the codes page but if you don't want to it is not that important.
YOU MUST ABIDE BY THESE RULES AT ALL TIMES IF YOU DON'T YOU MIGHT BE REMOVED FROM THE LIST!!
/fkljjkj
Thank you if you want to sign up please click on this link to the signing up page!
btw Thanks a bunch to In Obscuro for the Photoshop brushes and "Cerebric Script" for the script I used on this site! (Their site is dead now.) It's a legal notice so I put it here